History
The village, whose origin of the name comes from the brook which crosses it coming from Zaessingue, formed part of the town hall of the valley of Hundsbach, in the seigniory of Altkirch. A noble family bore her name in 13th century.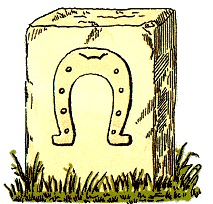 Old landmark of Wahlbach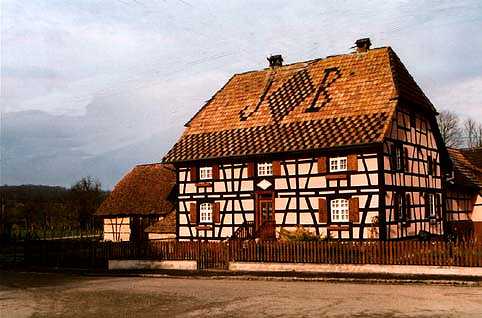 House in Wahlbach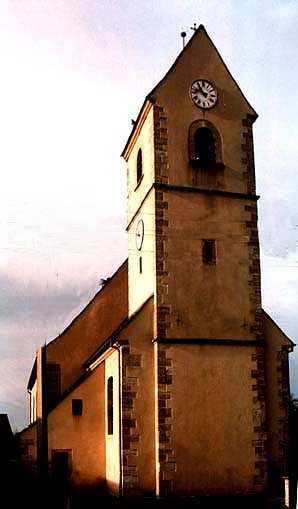 The side altars, of baroque style, present on the left, a painting of the Annunciation and a medallion of the Assumption due to Mathias Jehl (1752) as well as the statues of Saint Barbara and Catherine. On right-hand side, the medallion representing Saint Wendelin from the same artist, while the Saint Lawrence, in the center, dates from the 19th century. On both sides are placed the baroque statues baroques of Saint Sebastian and Saitn John Népomucène.
Church
Quoted since the middle age, subsidiary of Hundsbach until 1780, the church was dedicated first to Saint Théodule, then to Saint Maurice to which was joined Saint Lawrence after 1883.
The bell-tower with its saddle roof, above the choir, goes back to the 13th century and, rather particular, rests on four pillars which enframe the high altar. The nave goes back to 1771.
Under the porch, at the entry, are embedded old tombstones of priests from the 18th and 19th centuries.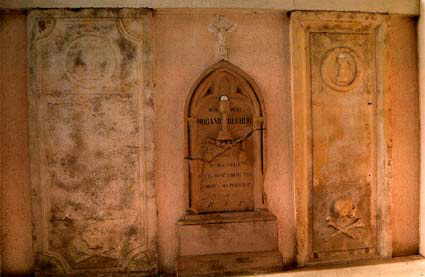 The chair of same style faces a Christ in cross and a full-size statue of Saint Maurice. The organ is from Valentin Rinckenbach (1839), with an baroque angel on the loft.